SPARC Hope: Louisville's Best-Kept Secret
Arizona State University ENG 101: First-Year Composition
Professor: Pete Figler Student: Tyler Redden November 29, 2022
Chances are good that you know a single parent. The latest available US Census Bureau data puts the figures at about 26.4% of all children in the United States belonging to a single-parent household, or about 1 in 4. Of those 1 in 4 children, about a third of them in Louisville, Kentucky lives in a home that falls below the poverty line. So, out of a hypothetical 30 student classroom, we could surmise that 2 or 3 of those kids have struggling single parents at home, distracted from being the best parents they can be by a desperate attempt to make ends meet. The future for these parents, along with their children, seems bleak at times. Many single parents are holding their own fairly well against the situation's life has thrown at them, but for one reason or another may find it difficult to advance in life when they are pulled in so many directions constantly.
One must wonder, if these parents had a helping hand, a stronger support network, do they have what it takes to pull it off? Enter: SPARC Hope.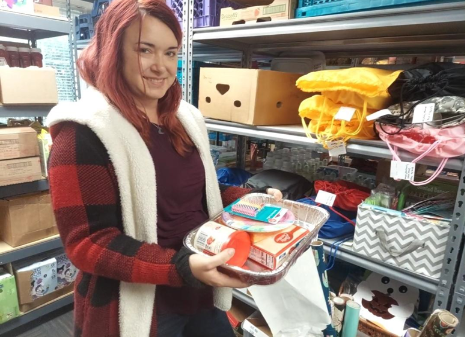 Cassie Wingfield, SPARC Hope's Marketing Coordinator, shows one of their many offerings available to participating parents.
SPARC Hope, which began as Mom's Closet Resource Center back in 2003, recognizes that many single parents have the drive and willingness to succeed, but lack the support network to do so. They pride themselves on serving these parents on several fronts, whether it's by offering food pantry services, education and budget consulting, gas cards, utilities, or rent/mortgage assistance, and even emergency assistance when unexpected expenses like a vehicle breakdown pop up. Some parents receive furnishings for their homes, others receive holiday decorations, the list goes on and on. All this information and more can be easily accessed through their website or one of their many social media accounts. But what is it about SPARC Hope that makes the most difference? The answer may surprise you.
Brittney Weird, a client of SPARC Hope, said that her mental and emotional state after her divorce were downright debilitating. It was sudden, unexpected, left her feeling lost in life, and generally helpless. She was living paycheck to paycheck and was lacking the courage to try to get back into school. A friend familiar with her situation suggested she check out SPARC Hope, and the rest, as they say, is history. Not only did she get back into school, but she also wrote and published a powerful memoir during her time in the SPARC Hope program called Finding Her, which is available through Amazon and other online retailers. "They came to my book release," she said, "and they didn't have to do that, but they showed up."
But the biggest impact for Brittney though, was something unexpected: "I got a letter, a handwritten letter, that was personable and encouraging, and I got it in a moment when I really needed it." That unexpected letter was written by one of SPARC Hope's many volunteers, who demonstrate time and again their commitment to helping these struggling parents. After two years of being a client, Brittney is currently preparing to take her final exams to become a personal trainer. She is but one of the many parents currently enrolled in a program with SPARC Hope. To parents like her, that network of support and encouragement can make all the difference.
To reflect on their clients' many successes, SPARC Hope has established a "Wall of Fame" in their primary location that showcases graduation diplomas from not only the parents utilizing their services, but their children's as well. This goes to show that their efforts have far-reaching effects on the community at-large, not just on the individual family. It serves as a living reminder for every member and volunteer that passes by just how important their work really is. But for every success SPARC Hope has had, they still need help. Their recent developments include the possibility of instituting a waiting list for potential clients, which means those parents that are willing to put in the work may end up having to place their plans on hold. For those in need, they are more than willing to connect them to resources in their expansive network outside of their organization.
According to the board members, SPARC Hope is Louisville's "best-kept secret," in that they are constantly surprised by how often they come across potential clients, donors, and volunteers that have never heard of them. Cassie Wingfield, SPARC Hope's Marketing Coordinator, has been putting in the long hours pushing the outreach program as hard as she can, and has been met with plenty of success. As a single mother herself, Cassie finds the work fulfilling and relatable. "It is the most rewarding work I've ever done; it doesn't feel like work. Like, I get excited to come here."
As Cassie continues to make progress with the outreach programs, SPARC Hope has many ideas in mind for how they would like to expand their services in the future. Their plans include the possibility of opening a thrift store to provide additional recurring income to support more clients, providing employment and childcare services, and a 24/7 chatbot available to clients to help them find resources at odd hours. Not willing to stop there, however, they have a more distant dream of providing housing for their clients when necessary.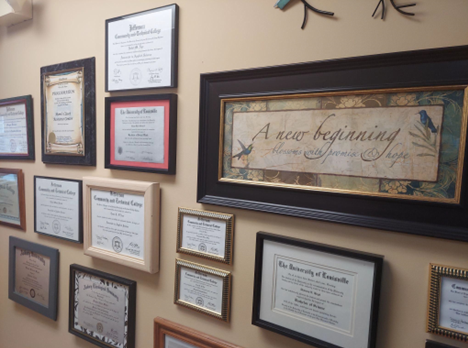 A small part of "The Wall of Fame" in SPARC Hope's offices.
But what's the true driving force behind all these efforts? "My hope is always that people are just always looking out for each other. These single parents, when I watch them put in the hours with trying to be a mom or dad, single, working, going to school… I just love watching people helping people, that's it," said Laurie Wingfield, SPARC Hope's Executive Director. "We couldn't do what we do if people wouldn't open their hearts."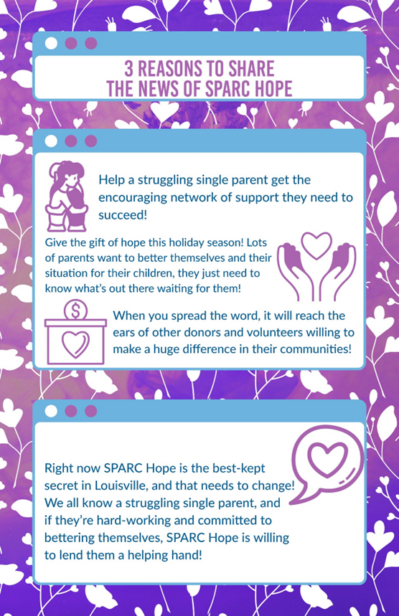 SPARC Hope: Louisville's Best-Kept Secret
References:
Real Diapers. "Single Parent Statistics in 2022 (Mothers vs. Fathers Data)." Real Diapers, 27 June 2022, https://realdiapers.org/single-parent/. Accessed 22 November 2022.
The Annie E. Casey Foundation. "Families with related children that are below poverty by family type in Louisville." Kids Count Data Center, https://datacenter.kidscount.org/data/tables/55-families-with-related-children-that-are-bel ow-poverty-by-family-type loc=1&loct=2#detailed/3/71/true/1729/994,1297,4240/346. Accessed 22 November 2022.
SPARC "Sparc Hope – Homepage." Sparc Hope – Single Parent Resource Center, https://www.sparc-hope.org/. Accessed 22 November 2022.
Weird, "Finding Her: Weird, Brittany: 9781087857473." Amazon.com, 15 June 2022, https://www.amazon.com/Finding-Her-Brittany-Weird/dp/1087857473. Accessed 22 November 2022.