DONATIONS FOR SPARC Hope
Monetary Donations – To make a Financial Donation to SPARC Hope, use the Donate Button below. We are a Federal Non Profit under section 501(c)(3). SPARC Hope will send out tax statements at the end of the year!
Support a Single Parent
If you would like to Support a Single Parent, a full year is $2400; half a year is $1200. Use the Donate Button below. We will send out tax statements at the end of the year! We will keep you updated on parents in our program through our newsletters and annual reports!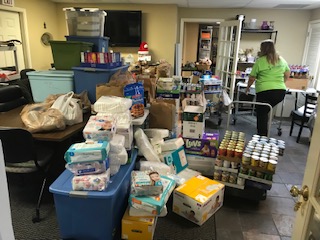 Food Donations
We coordinate three big food drives each year. In between, we are always in need of various items. We update our Facebook page whenever we have a specific need, so like us on Facebook. You can also call our office to inquire about any items we may currently need. We also, take gift cards to shop for items we do not get in on a regular basis like daily or frozen fruits and vegetables. Feel free to drop off gift cards.
If you have any questions, call us at 502-245-9899.
Our Consignment Store Partners 
PLEASE CALL FIRST BEFORE YOU SHOW UP

The Wright Stuff Consignment Shop. 
Buttons Bows & Britches.  
Kaeli's Kloset. 
Annie's Attic-502-244-0303- 11750 Shelbyville Rd
For more information on our consignment stores please visit:
We are always looking to expand our partnerships to more consignment stores. Especially one that will consign clothes for older children and men.
On Other Donations, we keep an ongoing list of items that our parents need. Please feel free to call our office at 502-245-9899 to check on what the current needs are for our parents. Or feel free to email us at info@sparc-hope.org