In-kind Donations
Food, Clothing, Household Items and More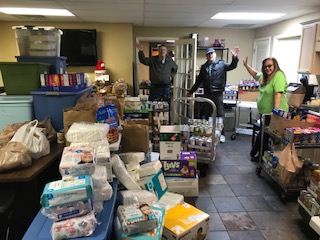 Food Donations
We coordinate three big food drives each year. In between, we are always in need of various items. We update our Facebook page whenever we have a specific need, so like us on Facebook. You can also call our office to inquire about any items we may currently need. We also, take gift cards to shop for items we do not get in on a regular basis like daily or frozen fruits and vegetables. Feel free to drop off gift cards.
If you have any questions, call us at 502-245-9899.
Consignment Partners
PLEASE CALL FIRST BEFORE YOU SHOW UP
Children's clothing, toys, baby gear & furniture to:
Buttons Bows & Britches- 502-384-3884- 111 Cannons Ln 
You may drop off items Monday-Thursday from 10:30am- 4:30pm. You do not need an appointment. She only accepts nice, clean items.
Women's clothing, jewelry & household items to:
The Wright Stuff Consignment Shop- 502-245-2106- 11706 Main Street, Middletown
The drop off is Tuesday and Wednesday. They will take a couple of bags per visit (would like on hanger)
Hours are from 11am-5pm, Tuesday- Saturday.       
Ladies, young mens, Jrs, children clothing, furniture & home décor to:
Kaeli's Kloset- 502-241-0096- 6348 KY 146, Crestwood
The drop off is by appointment only. You may drop off items Monday-Saturday by appointment. Must have on hangers (or pick-up hangers from store).
We are always looking to expand our partnerships to more consignment stores. Especially one that will consign clothes for older children and men.
On Other Donations, we keep an ongoing list of items that our parents need. Please feel free to call our office at 502-245-9899 to check on what the current needs are for our parents. Or feel free to email us at info@sparc-hope.org