Parenting is hard, and expensive. Feeding a family on one income can be difficult, even before prices started going up. With the cost of groceries rising, we thought this week we might share some budget friendly recipes. These dinners should only run about $10 to feed your family.
Slow Cooker Teriyaki Chicken Thighs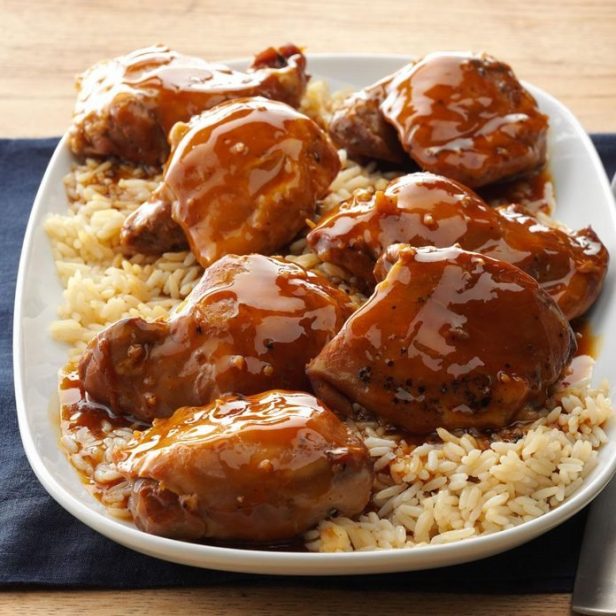 This is an easy dinner, and easy on the wallet too!
Prep: 15 min. Cook: 4 hours
Makes : 8 servings
Ingredients
3 pounds boneless skinless chicken thighs
3/4 cup sugar
3/4 cup reduced-sodium soy sauce
1/3 cup cider vinegar
1 garlic clove, minced
3/4 teaspoon ground ginger
1/4 teaspoon pepper
4 teaspoons cornstarch
4 teaspoons cold water
Hot cooked rice, optional
Directions
Place chicken in a 4- or 5-qt. slow cooker. In a small bowl, mix sugar, soy sauce, vinegar, garlic, ginger and pepper; pour over chicken. Cook, covered, on low 4-5 hours or until chicken is tender.
Remove chicken to a serving platter; keep warm. Transfer cooking juices to a small saucepan; skim fat. Bring cooking juices to a boil. In a small bowl, mix cornstarch and cold water until smooth; stir into cooking juices. Return to a boil; cook and stir 1-2 minutes or until thickened. Serve with chicken and, if desired, rice.
Nutrition Facts
5 ounces cooked chicken with 1/3 cup sauce: 342 calories, 12g fat (3g saturated fat), 113mg cholesterol, 958mg sodium, 22g carbohydrate (19g sugars, 0 fiber), 33g protein.
Our next recipe is a great idea for parents with young kids and busy lives. This simple, inexpensive dish is made with handy ingredients and takes just a short time.
Cheeseburger Cups
Makes: 5 servings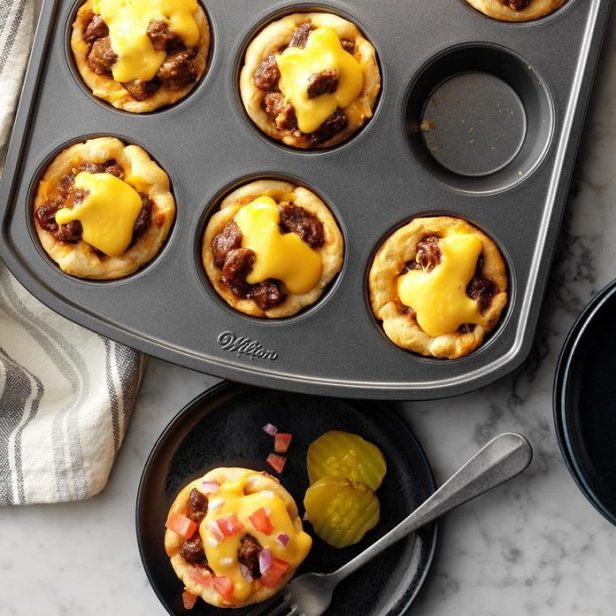 Ingredients
1 pound ground beef
1/2 cup ketchup
2 tablespoons brown sugar
1 tablespoon prepared mustard
1-1/2 teaspoons Worcestershire sauce
1 tube (12 ounces) refrigerated buttermilk biscuits
1/2 cup cubed Velveeta
Directions
In a large skillet, cook beef over medium heat until no longer pink, breaking it into crumbles; drain. Stir in the ketchup, brown sugar, mustard and Worcestershire sauce. Remove from the heat; set aside.
Press each biscuit onto the bottom and up the sides of a greased muffin cup. Spoon beef mixture into cups; top with cheese cubes. Bake at 400° for 14-16 minutes or until cups are golden brown.
Freeze option: Freeze cooled pastries in a freezer container, separating layers with waxed paper. To use, thaw pastries in the refrigerator for 8 hours. Reheat on a baking sheet in a preheated 375° oven until heated through.
Nutrition Facts
2 cheeseburger cups: 440 calories, 16g fat (7g saturated fat), 78mg cholesterol, 1142mg sodium, 45g carbohydrate (13g sugars, 0 fiber), 27g protein.