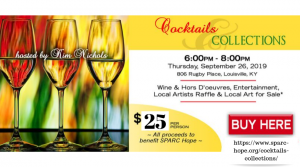 What a wonderful event we had on 9/26/19!   It was a wonderful evening of Cocktails and Collections at Kim's fabulous home in North Hurstbourne Estates!  This was the second year for this event!  Our food was provided by Sandra Gugliotta of Dining Elegance Caterers.  Our wine and drinks were provided by various vendors in our community.  We had music for the evening by Chase Skinner.  And we had several local artists that had items for sale that evening, and gave a portion of their proceeds to benefit Sparc Hope!  In addition, 100% of the $25 ticket cost went to benefit Sparc Hope.
Again, what a wonderful evening to relax, shop, mingle with old friends while meeting new ones!
Special Thanks to everyone who donated their time, talents and treasures to support this event!  Kim Nichols (Hostess), Sandra Gugliotta with Dining Elegance Caterers, Chris Schreck with Shreck's Baxter Liquors, Gail Skees with Abigail's Florals, Christine Roby (deer leather bag), Chase Skinner (live music), Rent & Rave (tables & linens).  See info on all of our artists below.
Watch for Information again for this event in 2020!
Click here to view pictures and video from the evening!
MORE INFORMATION ON ARTISTS
Kara Nichols Jewelry Design – Contact her at nicholspsy@aol.com
Brooke Forrest White Jr., Flame Run – Blown Glass- Visit their website for more information at Flamerun.com
Amy Welborn, Oil Paintings – Visit her website for more information at paintingsbyamywelborn.com
Rhonda Moss – Life Wellness – all-natural healing. Visit their website for more information at https://golddoorhemp.com
John Diebold Stained Glass & Repair 502-235-5815 & Stained Glass of Louisville, Bob & Mary Ann Schubert, 502-643-175.
Visit their website for more information at www.stainedglassoflouisville.com