As a single mom on a budget I know that one of my largest expenses (that I need to cut out) is eating out for lunch during the work week. $10 here and $12 there, it can really add up. Let's say you average spending $50 a week on lunches, that's $200 a month give or take.
With just a little preparation and determination, we can cut that expense DRASTICALLY. So in order to help out we wanted to share part of an amazing article:
31 Cheap Meal Prep Recipes You'll Love
(We will be sharing 5 of these amazing recipes!)
Take your meal planning to a whole new level with these cheap meal prep recipes. They're healthy, flavorful, nutritious, and easy to make!
Do you have a tight food budget? Then prepping your meals ahead of time can save you some dough.
That's because you can save on expensive takeout. Not only that, you'll have less food waste.
And the less food you waste, the more money in your pockets.
But do you know what can save you even more money? Making cheap meal prep.
So, today I'm sharing 31 Cheap Meal Prep Recipes. They're not only easy on your wallet but delicious too.
To keep your food fresh and reduce food waste, it's best to store your meal in a good set of food storage containers.
1. Healthy Chicken Burrito Bowls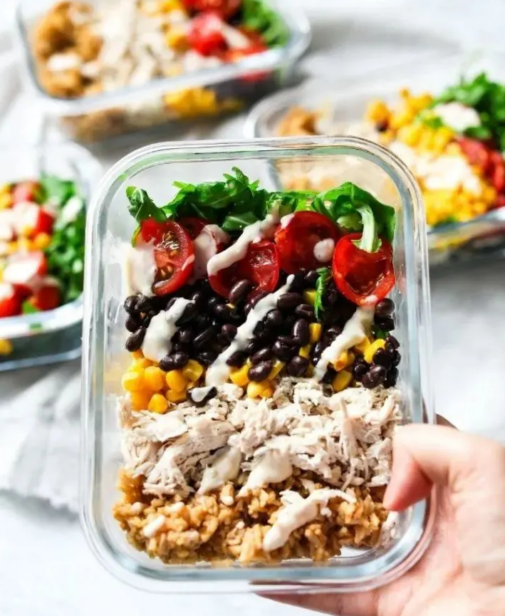 Credit: allnutritious.com
Are you craving Mexican takeout? Have my Healthy Chicken Burrito Bowls instead.
They're full of yummy Mexican flavors. You've got spicy Mexican rice, creamy black beans, sweet corn, fresh arugula, and juicy tomatoes.
Now you will be using chicken breasts for your protein. So, to keep the costs lower, stock up on chicken breasts when they're on sale.
Then store them in freezer bags in the freezer for later. Check out more chicken and rice meal prep ideas here!
Per Serving:
Calories: 520
Fats: 13g
Protein: 37g
Carbs: 64g
Fiber: 9.5g
Sugar: 4.2g
2. Greek Chickpea Salad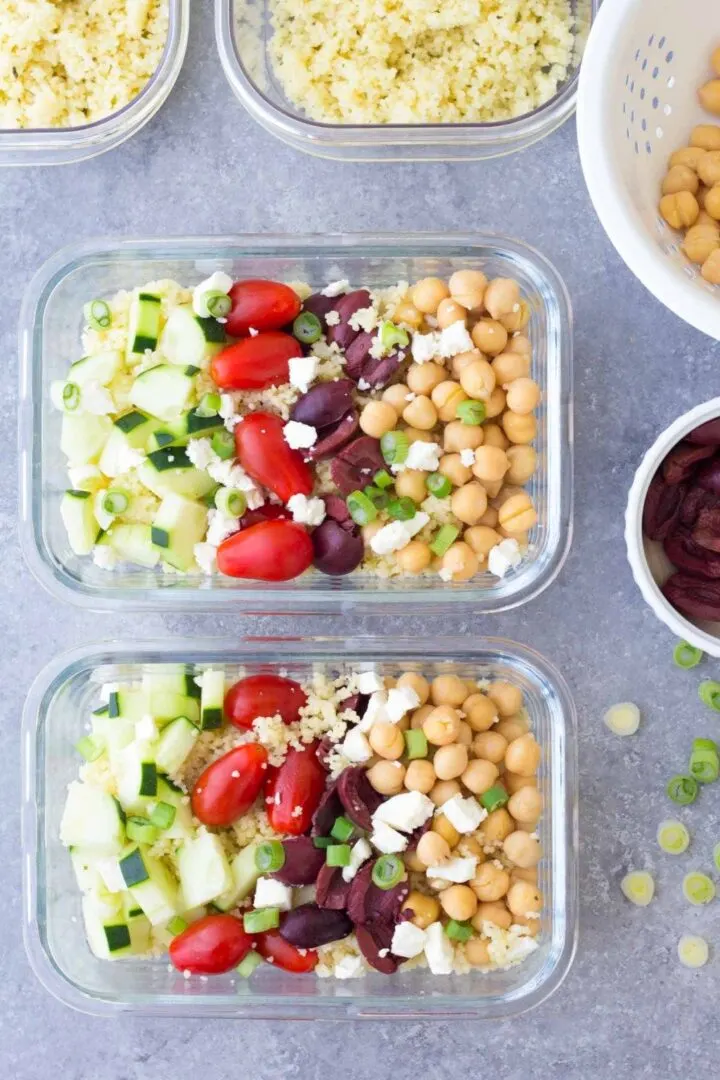 Credit: kristineskitchenblog.com
Missing the tastes of Greece? Try this Greek Chickpea salad.
It's packed with dreamy Greek flavors. There's fluffy couscous, sweet cherry tomatoes, chickpeas, fresh cucumbers, salty olives, and creamy feta cheese.
Besides being delicious, this salad is also good for you. It contains almost 50% of your daily fiber needs.
So, it's good for your digestion. It also has a lot of heart-healthy monounsaturated fats.
Now, this Greek Chickpea Salad is already bursting with Greek flavors. But for even more Greek flavors, you can add some red onions. Yum!
Per Serving:
Calories: 688
Fats: 27g
Protein: 22g
Carbs: 91g
Fiber: 12g
Sugar: 11g
3. Meal Prep Shrimp Taco Bowls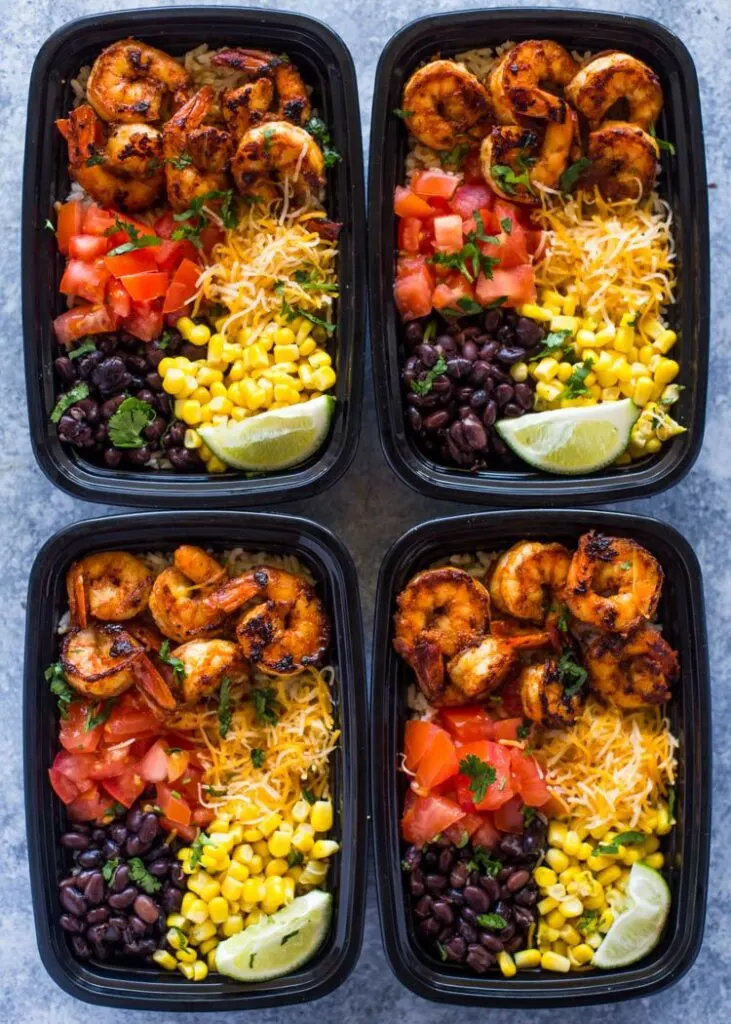 Credit: gimmedelicious.com
I love seafood, as I'm sure many of you do too. But let's face it: seafood tends to be expensive.
So what's a gal (or guy) to do? Combine seafood with a cheaper protein like beans, for instance.
And these Meal Prep Shrimp Taco Bowls do just that. You've got Mexican-seasoned shrimp combined with black beans.
So, you have just enough shrimp to satisfy yourself – without breaking your budget. And that's not all.
There's corn, tomatoes, brown rice, and cheddar cheese. So, you'll definitely feel full after eating this dish.
Besides being tasty, shrimp is also good for you. It contains heart-healthy omega-3s.
It also contains astaxanthin antioxidants which may reduce inflammation. So, chow on that shrimp!
Per Serving:
Calories: 335
Fats: 10g
Protein: 17g
Carbs: 45g
Fiber: 7g
Sugar: 3g
4. Crock Pot Teriyaki Chicken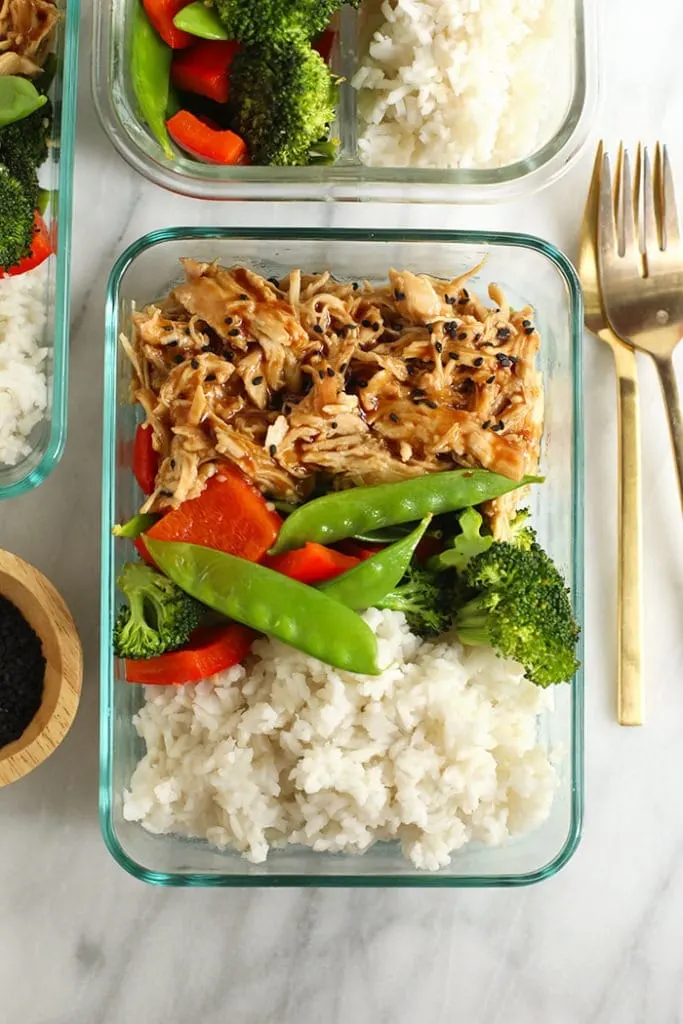 Credit: fitfoodiefinds.com
Feel like having Japanese? I've got you covered.
On the menu is shredded chicken Japanese-style. It's been simmered in a slow-cooker for a couple of hours.
So, it's juicy-tender. It's definitely a meal you'll want to eat again and again.
And it's served with rice, and roasted red bell peppers, snow peas, broccoli, and onions. So, you're getting a healthy helping of veggies.
Making the Teriyaki Chicken is pretty simple. Just put your chicken breasts in a slow cooker, and top with some homemade Teriyaki sauce.
Then cook on low for 4-6 hours. Once ready, shred with two forks or use a meat shredder like this instead.
To avoid the chicken from getting dry, it's best to cook it in a programmable slow cooker. That way, the slow cooker will turn off by itself – and the chicken won't dry out.
That comes in handy when you're making the chicken while at work. You can get a high-quality programmable slow cooker at a great price here.
Per Serving:
Calories: 534
Fats: 14g
Protein: 43g
Carbs: 63g
Fiber: 4g
Sugar: 22g
5. Spicy Pineapple Chicken Meal Prep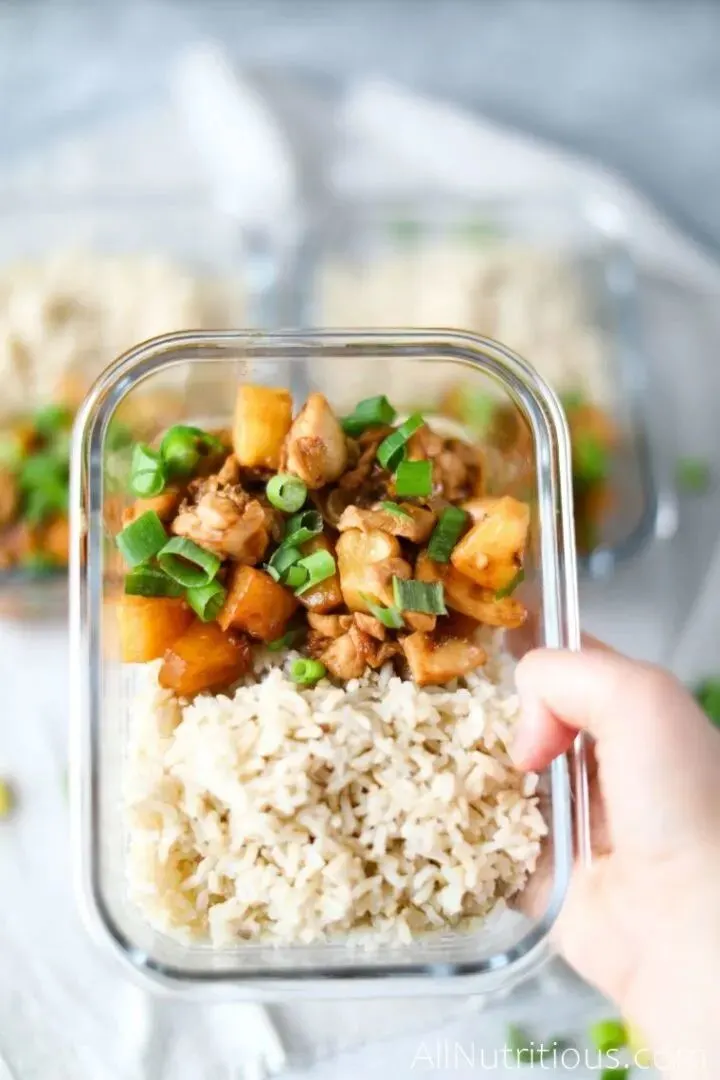 Credit: allnutritious.com
Looking to save even more money? Make my Spicy Pineapple Chicken Meal Prep.
It's full of Island flavors, from the spicy chicken and tropical pineapple.
And it's really easy on your wallet. That's because you're using chicken thighs instead of chicken breasts.
Not only are chicken thighs cheaper, but they're also tastier. That's because they contain more fat.
And as we all know, more fat means more flavor.
Now, this meal prep does contain a lot of sodium. However, you can cut down on the sodium by using a reduced-sodium soy sauce.
This one here contains close to 40% less sodium than traditional soy sauce. Or, to cut the sodium, even more, you can use coconut aminos.
Coconut aminos have close to 70% less sodium than regular soy sauce. They would also add more Island flavors to this dish. If you'd like to use coconut aminos instead, you can get some here.
Per Serving:
Calories: 324
Fats: 10g
Protein: 31g
Carbs: 29g
Fiber: 1.8g
Sugar: 23g

So there are 5 of the 31 recipes from All Nutrition. If you would like to view the rest of their article you can do so here.
We would love to hear from you. Please connect with us on Facebook and Instagram and tell us your thoughts!
Check out some of our other blog posts here, for tips and tricks for single parents, budget hacks, inspiration and more information about what we do here at SPARC Hope.