Support SPARC Hope for Give for Good Louisville on September 15, 2022

HEY GANG!  WE ALL PULLED TOGETHER AND WE DID IT!   WAY TO GO TEAM!   OUR GOAL WAS $22,000 AND WE RAISED $26,000!
THANKS TO EVERYONE THAT DONATED THAT DAY!   THANKS TO ALL OF OUR PEER TO PEER AMBASSADORS!   SPECIAL THANKS TO ALL OF OUR MATCHING FUND SPONSORS!   WE RAISED OVER $10,500 BEFORE THE DAY EVEN STARTED!   ALL OF OUR FUNDS WERE MATCHED! 
AND A SPECIAL THANKS TO CASSIE WINGFIELD!   OUR MAREKTING QUEEN!   WE WON A $1000 PRIZE IN OUR TIER FOR OUR SOCIAL MEDIA!   YEA!
On September 15th, make education and resource assistance possible for single parent families in our community by donating during Give For Good Louisville, our community's biggest day of online giving.
We need your help now more than ever! Please save the date and join our campaign to help us reach our goal of $22,000! We need you to tell your friends and family members about the important work we do at SPARC Hope and ask them to join us in helping to make a difference in our single parent ministry.
Get ready to give! Starting at 12 AM on September 15th, visit https://www.giveforgoodlouisville.org/organizations/sparc-hope-formerly-mom-s-closet-resource-center-inc and make a donation to SPARC Hope. You can stretch your donation on 9/15 through matching gifts and prize money. The Community Foundation of Louisville is giving out $480,000 in prize money this year!
TOGETHER we can make a difference, one single parent at time!
To stay up-to-date all day 9/15/22 on what we are doing, FOLLOW, LIKE AND SHARE on our Facebook page!
Why should you give during Give For Good Louisville?
The biggest day of local giving returns on Thursday, September 15 when the Community Foundation of Louisville's Give For Good Louisville takes over our community.
The nonprofit organizations supported by Give For Good Louisville represent our community's priorities – they see vital needs that aren't otherwise being met, develop forward-thinking solutions and take the initiative to make positive change.
Be a part of this force for good and #GiveForGoodLou on September 15 between midnight and 11:59 PM at www.giveforgoodlouisville.org.
All Day Online Giving, 12am-11:59pm, September 15, 2022!
 Consider supporting SPARC Hope and the vital work we are apart of in our community during this community-wide day of philanthropy. We are Changing the Future of Kentuckiana's Kids, One Single Parent at a Time by uplifting the Spiritual, Physical and Emotional needs of single parents.
We want to empower single parents to seek a better quality of life through pursuing higher education, allowing them to become self-supportive through a new career. Please visit our Give for Good 2022 website, for more information on how you can be apart of making a difference.
To stay up-to-date on our Facebook page!
Become a Match Sponsor!!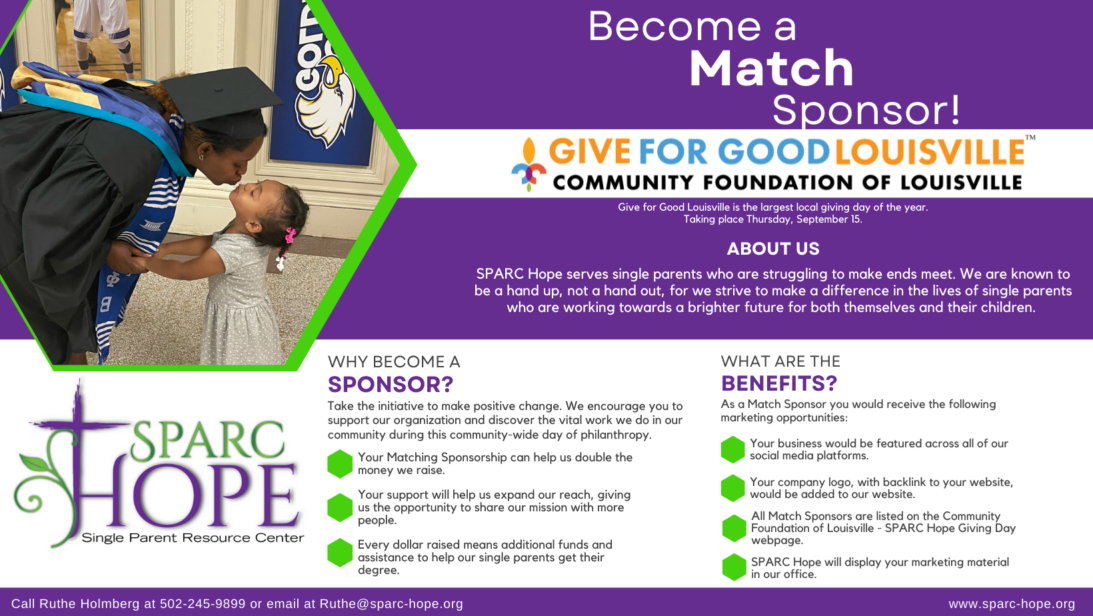 Visit the link on how you can help us win additional prizes: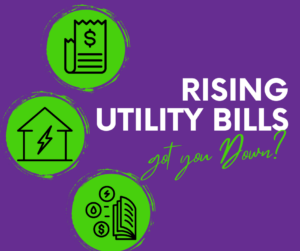 Rising Utility Bills Got You Down? As many of you have noticed, the cost of utilities has increased substantially over the past few months. This can be alarming to those on a fixed budget, such as the single parents in our program. Homeowners can use building maintenance to save on utility costs, but what if you […]