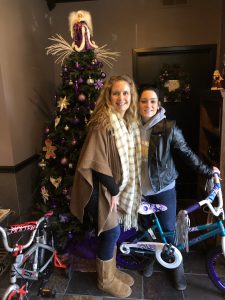 TODAY, we highlight our special Program Coordinator, Staci (left) and mom, Elizabeth (right). Staci has been with Sparc Hope for 10 months but feels like she has been with us much longer. Needless to say, a pleasant addition. Staci pours into our parents every day of the week by sending encouraging words, providing support where needed, and guidance on days that are a little bit more tough for our parents and even staff. Staci is excited about everything going on with our parents. Intakes are UP!  Right now she is excited about our two Bridge moms getting ready to interview and possibly become clients in January. She is also excited about the 3 new moms that we are bringing on by the end of December, and we have another mom possibly coming on with us in January. We also still have about 3/4 more possible Life Plan clients working on our intake list and we have one or two Food Pantry moms who may be thinking about transitioning to Life Plan clients. That would put us at over 20 moms! HOW EXCITING! Without the encouragement and bubbly spirit from Staci, we would not have the growing number of parents we have today.
When Staci is not working with Sparc Hope she enjoys spending quality time with her two children and husband, working out, being outdoors, working as a LiveStrong facilitator at the YMCA, and traveling. Staci, your hard work does not go unnoticed and EVERYONE at Sparc Hope appreciates you and are so blessed to have you!
One of Staci's favorite Parent Stories 
"Sandy is 1 of our 2 Bridge clients. She will be interviewing for Life Plan before Christmas. She has 3 girls ages 6-17. She cries tears of joy & gratitude at every pantry visit. She regularly prays for items that she wants or needs, and we get them in the pantry the week of her visit- even things that I have rarely or never seen on our shelves. She has started using Sparc Hope and her visits as faith builders for her girls. She brought a list of their wishes to her last visit, and we laughed and rejoiced as we checked item after item off of the list, said Staci."
Several weeks ago, the money that she was using to buy the bare minimum of groceries (her older daughter, a senior in high school, was even using her money from working at UPS, to help them buy food), was now in her account. This account usually has a negative balance. Her lease is up in 2020, and as she looked for a place to live, she was led to an apartment complex with sidewalks that lead straight to her daughters' school. The day she went into the leasing office, the agent said, "You picked the perfect day to come in! We are running a promotion today: $1 application fee. $150 down to hold the unit." Guess how much she had in her normally negative balance account BECAUSE of Sparc Hope? You guessed it: $150!!!
"I believe that Sandy is going to be quite a spokesperson for Sparc Hope. I look forward to her becoming a Life Plan client and working with her as she pursues her degree in counseling at Campbellsville University while working at UPS, said Staci."